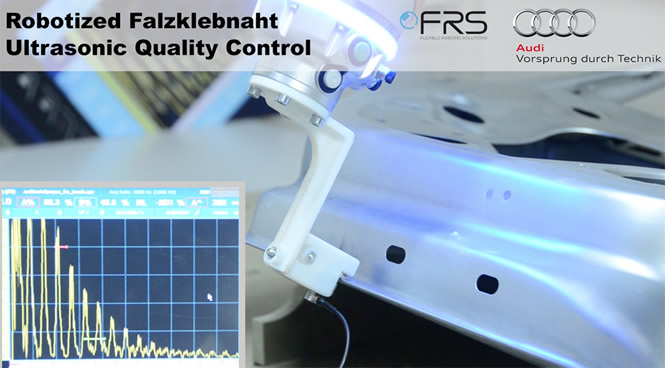 New flexible FRS robot cell
FRS introduces a flexible robot cell that automates highly sensitive ultrasonic measurements along the fold glue joints of vehicle doors. The patent-pending solution revolutionizes today's complex manual ultrasonic quality control, which is time consuming and error prone.
FRS develops, produces and distributes software, machines and systems for any robotic ultrasonic measurement application, based on the latest research results and innovative technologies.
Cooperation with Audi Brussels
Audi Brussels cooperates for 'Robotic Ultrasonic QC' solution with FRS Robotics to flexibly automate fold glue joints inspection on vehicle doors. The robot cell that is able to flexibly execute reliable ultrasonic inspection on different door types. The solution speeds up ultrasonic door inspection and also reduces measurement preparation time thanks to straightforward door positioning and system calibration.
FRS Robotics has demonstrated 'Robotic Ultrasonic QC' on Audi vehicle doors in premiere on Control 2018 in Stuttgart. Read the press release.
Key Advantages
Compared to manual inspection, it is like having your best quality control operators on the job and increase productivity at the same time – and make sure they never get tired. The automated adaptive process delivers more robust and flexible ultrasonic quality control, which leads to consistently better produced parts.
Faster inspection than by experienced operator
'Robotic Ultrasonic QC' speeds up inspections by adaptively guiding the ultrasonic sensor.
More reliable inspection results
Robust & reliable ultrasonic inspection of part series – flexibly handling geometric variations in production.
Higher flexibility in parts inspections
Switching to another item variant only requires clicking a few software buttons.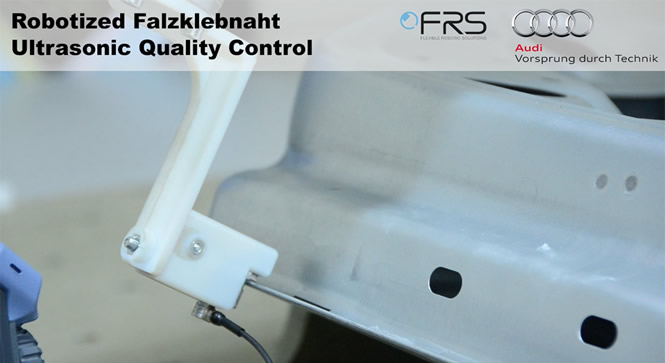 Tackling automation hurdles
Manual ultrasonic quality control lacks process efficiency and measurement robustness. A skillful and experienced operator requires dedication and concentration to properly inspect a complete part. For this reason, robot motion driven solely on the basis of the vehicle door CAD model does not deliver sufficient local sensor positioning accuracy throughout the process.
The traditional robotic programming approach is therefor unable to consistently account for the local part-to-CAD deviations of individual doors, resulting in invalid ultrasonic measurements.
Revolutionizing ultrasonic inspection
The 'Robotic Ultrasonic QC' applies accurate adaptive sensor positioning to obtain valid measurements. It is a totally different solution that challenges traditional robotic quality control that requires a highly accurate computer model of the part. Based on contact forces and ultrasonic measurements, FRS continuously adjusts the position and orientation of the ultrasonic sensor in real time.
The automated approach of FRS guarantees robust ultrasonic quality inspection along the entire part.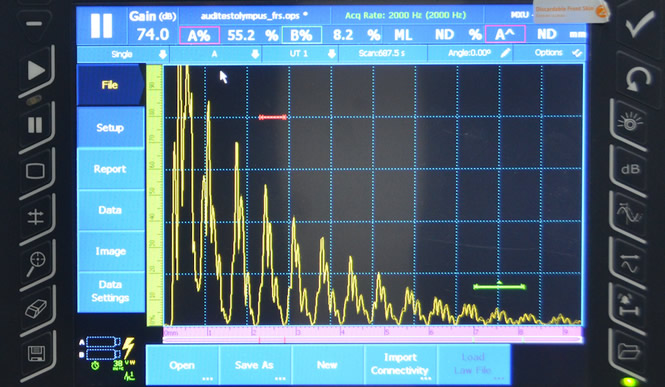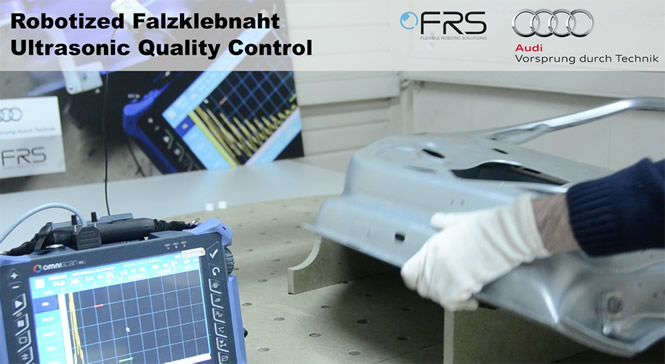 Fast, flexible & reliable robotic solution
Concretely, inspections in the FRS robot cell start with an operator positioning a part on an elementary stand or table. Adaptive robotic inspection does not require precision part fixation nor clamping, so part positioning and system calibration are fairly straightforward. The operator manually moves the robot arm to bring the ultrasonic sensor to the position where the inspection starts and clicks a button to begin automated inspection.
Alternatively, the robot moves autonomously to the starting position and starts inspection. Inspection continues along the part until the ultrasonic quality control of the part is completed.