Audi Brussels cooperates for 'Robotic Ultrasonic QC' solution with FRS Robotics to flexibly automate fold glue joints inspection on vehicle doors.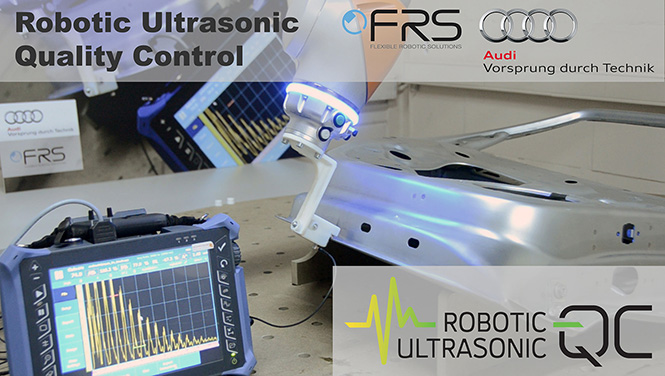 Innovations in adaptive sensor positioning developed by FRS Robotics enable Audi to flexibly automate manual ultrasonic quality control
Leuven (Belgium) – April 17, 2018 – FRS Robotics introduces a new adaptive robot cell that flexibly automates the highly sensitive ultrasonic inspection of fold glue joints of Audi vehicle doors. By innovating adaptive robot control software, FRS adds the required robot intelligence to continuously take valid ultrasonic measurements along the folded door edge. The robotized measurements revolutionize today's manual ultrasonic quality control that is time consuming and error prone. FRS's adaptive 'Robotic Ultrasonic QC' outperforms traditional automated quality control purely based on the vehicle door computer model. As a result, Audi benefits from a robot cell that is able to flexibly execute robust ultrasonic inspection on different door types. The robot cell speeds up ultrasonic door inspection and also reduces measurement preparation time thanks to straightforward door positioning and system calibration.
On April 24-27, FRS Robotics will demonstrate 'Robotic Ultrasonic QC' on Audi vehicle doors in premiere on Control 2018 in Stuttgart – FRS Robotics: Hall 3, Booth 3616-1.
Fold glue joints inspection on car doors
Metrology plays an important role in verifying the quality of sheet metal stamping and assembly operations. Certain vehicle door types consist of metal sheet inner and outer parts which are glued, plied and welded along the door edges. Ultrasonic inspection is performed manually to verify correct glue bonding. Audi asked FRS Robotics to automate the highly sensitive ultrasonic quality control of the doors' fold glue joints.
Manual ultrasonic quality control lacks process efficiency and measurement robustness. A skillful and experienced operator requires dedication and concentration to properly inspect a complete door. For this reason, robot motion driven solely on the basis of the vehicle door CAD model does not deliver sufficient local sensor positioning accuracy throughout the process. The traditional robotic programming approach is therefor unable to consistently account for the local part-to-CAD deviations of individual doors, resulting in invalid ultrasonic measurements.
Revolutionizing ultrasonic inspection
FRS introduces 'Robotic Ultrasonic QC' which applies accurate adaptive sensor positioning to obtain valid measurements. It is a totally different solution that challenges traditional robotic quality control that is purely based on the vehicle door computer model. Based on contact forces and ultrasonic measurements, FRS continuously adjusts the position and orientation of the ultrasonic sensor in real time. This automated approach guarantees robust ultrasonic quality inspection along the entire door edge.
Concretely, inspections in the FRS robot cell start with an operator positioning a door on an elementary stand or table. Adaptive robotized inspection does not require precision fixation nor clamping of the door, so door positioning and system calibration are fairly straightforward. The operator manually moves the robot arm to bring the ultrasonic sensor to the position where the inspection starts and clicks a button to begin automated inspection. Alternatively, the robot moves autonomously to the starting position and starts inspection. Inspection continues along the door edge until the quality control of the fold glue joints of the car door is completed.
Automating the most challenging tasks
The FRS robot cell is able to execute robust ultrasonic inspection of series of vehicle doors – flexibly handling geometric variations in production. Switching to a series of another door type only requires clicking a software button. Compared to manual inspection, it is like having your best quality control operator on the job and increase productivity at the same time. The automated adaptive process delivers more reliable ultrasonic quality control, which leads to consistently better vehicle doors. Overall, the FRS robotic software is able to automate a range of ultrasonic and other manual quality control applications, which have not been automated so far for technical or economic reasons.
About Audi Brussels
At Audi Brussels, robots are joining workforces to support in strenuous and ergonomically problematic tasks. Audis body shop and assembly of today's scale would be unthinkable without robot intelligence. Since 2010, the plant has been producing the Audi A1 family in the European capital of Brussels. Around 95,284 automobiles rolled off the production line in the past year alone. It is not only for this reason that Audi asked FRS Robotics to automate the highly sensitive ultrasonic quality control of the doors' fold glue joints in the context of a project.
Audi attaches great importance to their standards of quality, efficiency and environmental acceptability. Thus, the site in the European capital of Brussels has been investing considerably in innovative projects to adapt and transform the factory with respect to the upcoming e-car manufacturing. This year, Audi Brussels will exclusively produce the first fully electric series model: the Audi e-tron. As the first of its kind, the e-tron will be manufactured completely CO2-neutral at the converted plant, where also the model's batteries will be assembled.
Looking further down the road, Patrick Danau, General Director for Production, Technology and Logistics of AUDI BRUSSELS, believes that no one can shape the future of electric mobility with the structures and processes of yesterday. "With our new smart factory we at Audi Brussels have already started realigning ourselves step-by-step in order act more flexibly and adapt to new technologies in the future." Innovations are necessary to safeguard the "Vorsprung durch Technik".
About FRS Robotics
FRS is a Belgian high-tech company specializing in adaptive robot control designed for human-robot collaboration or full automation applications. FRS's flagship solution is 'Robotic Ultrasonic QC' software, which revolutionizes today's highly sensitive ultrasonic inspections that are performed manually. 'Robotic Ultrasonic QC' speeds up inspections, flexibly deals with production variations, and easily switches to another part type to be inspected.
FRS also offers services in the form of robotic automation studies and consultancy. Typically, the focus is on adaptive robot control in order to automate constraint-guided inspection, assembly or processing tasks. In this regard, the services of FRS typically include sensor-guided robotic operations.
Contact information
Rob Snoeijs
Marketing Manager

FLEXIBLE ROBOTIC SOLUTIONS
Kapeldreef 60
3001 Leuven
Belgium
M: +32 499 331414