New Flexible Robot Cell
FRS introduces a flexible robot cell that automates highly sensitive ultrasonic measurements along the fold glue joints of doors, hoods, trunks and other car body parts. The patent-pending solution revolutionizes today's complex manual ultrasonic quality control, which is time consuming and error prone.
Based on the latest research results and innovative technologies FRS Robotics develops, produces and distributes software, machines and systems for any ultrasonic robotic measurement application.
Operational at Audi Brussels
Audi Brussels uses the world's first cell for 'Ultrasonic Robotic QC', developed by FRS Robotics. The robot cell flexibly executes reliable ultrasonic inspection of the fold glue joints on different car body parts, including doors, hoods and trunks. By combining force control and feedback of the ultrasonic signal, FRS Robotics introduces a reliable and productive non-destructive quality control procedure which reduces material scrap. As the robot cell robustly handles both geometric variations in car parts and uncertainty in their positioning, no precise fixation nor clamping of body parts is required.
FRS Robotics has demonstrated 'Ultrasonic Robotic QC' on vehicle doors in premiere on the Control expo in Stuttgart.

Key Advantages
'Ultrasonic Robotic QC' drastically reduces or eliminates scrap and decreases related CO2 emissions. Such a robot cell excellently fit into Industry 4.0 automation initiatives supporting higher quality, efficiency and traceability.
Compared to manual inspection, it is like having your best quality control operators on the job and increase productivity at the same time – and make sure they never get tired. The automated adaptive process delivers more robust and flexible ultrasonic quality control, which leads to consistently better produced items. The robot takes over ergonomically burdening tasks from operators, while they can continue work near the robot.
Drastically Reduces or Eliminates Scrap
The quality control is no longer destructive. All parts are tested by a robot in a non-destructive mode.
More Reliable Inspection Results
Robust & reliable ultrasonic inspection of part series – flexibly handling geometric variations in production.
One Cell Can Inspect Multiple Car Parts
Operators easily switch to another car part by selecting the part from a computer screen.
Faster than Experienced Operator
'Ultrasonic Robotic QC' speeds up inspections by adaptively guiding the ultrasonic sensor.
Tackling Automation Hurdles
Manual ultrasonic quality control lacks process efficiency and measurement robustness. A skillful and experienced operator requires dedication and concentration to properly inspect a complete part. Due to the sensitivity of ultrasonic measurements, a robot solely driven on the basis of the part CAD model, does not deliver sufficient local sensor positioning accuracy throughout the process.
The traditional robotic programming approach is therefore unable to consistently account for the local part-to-CAD deviations on individual part edges, resulting in invalid ultrasonic measurements. To resolve this, FRS Robotics introduces an innovative robot feedback loop in real-time which allows a robot cell to robustly handle geometric variations in car parts and as well as the uncertainty in their positioning.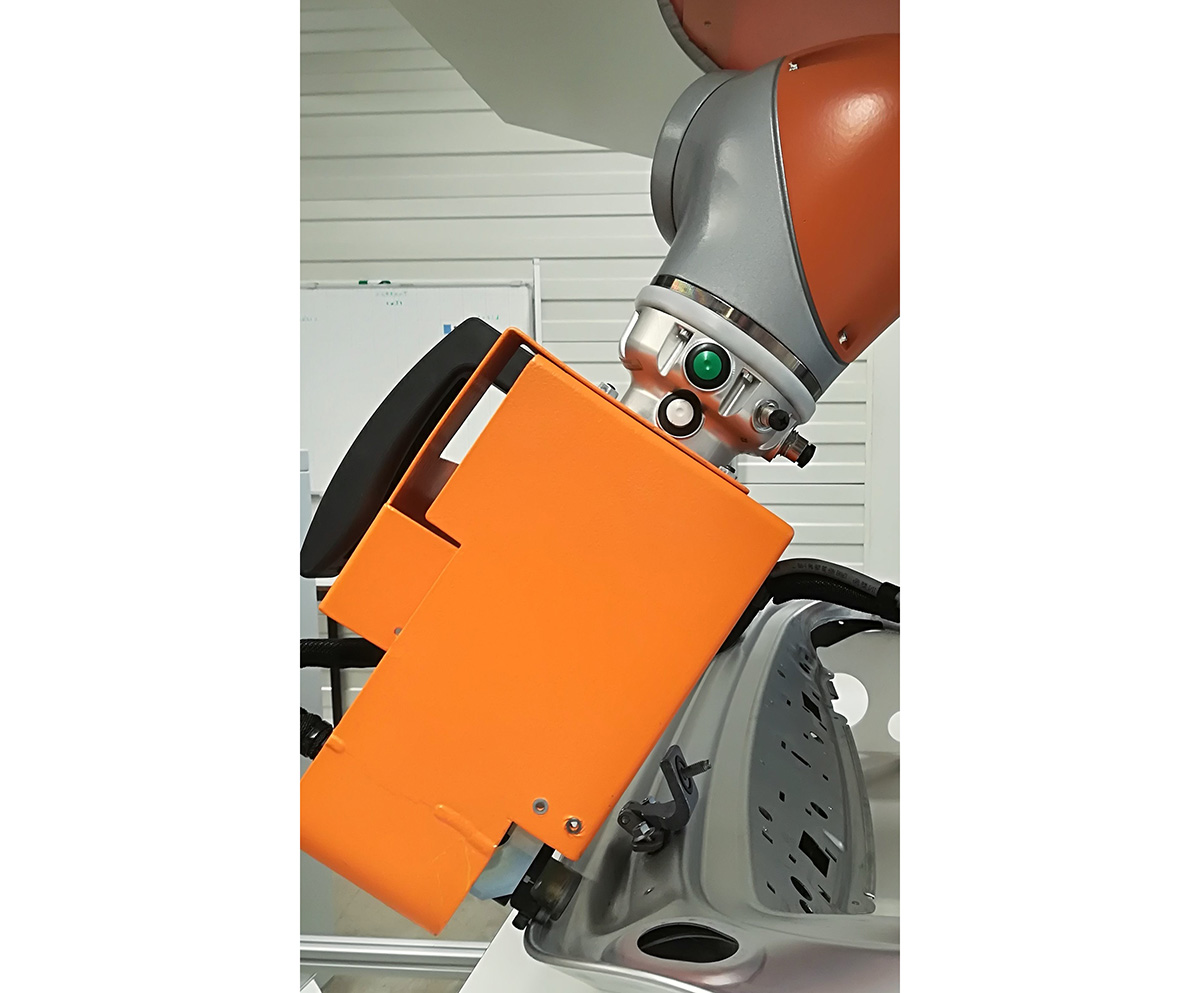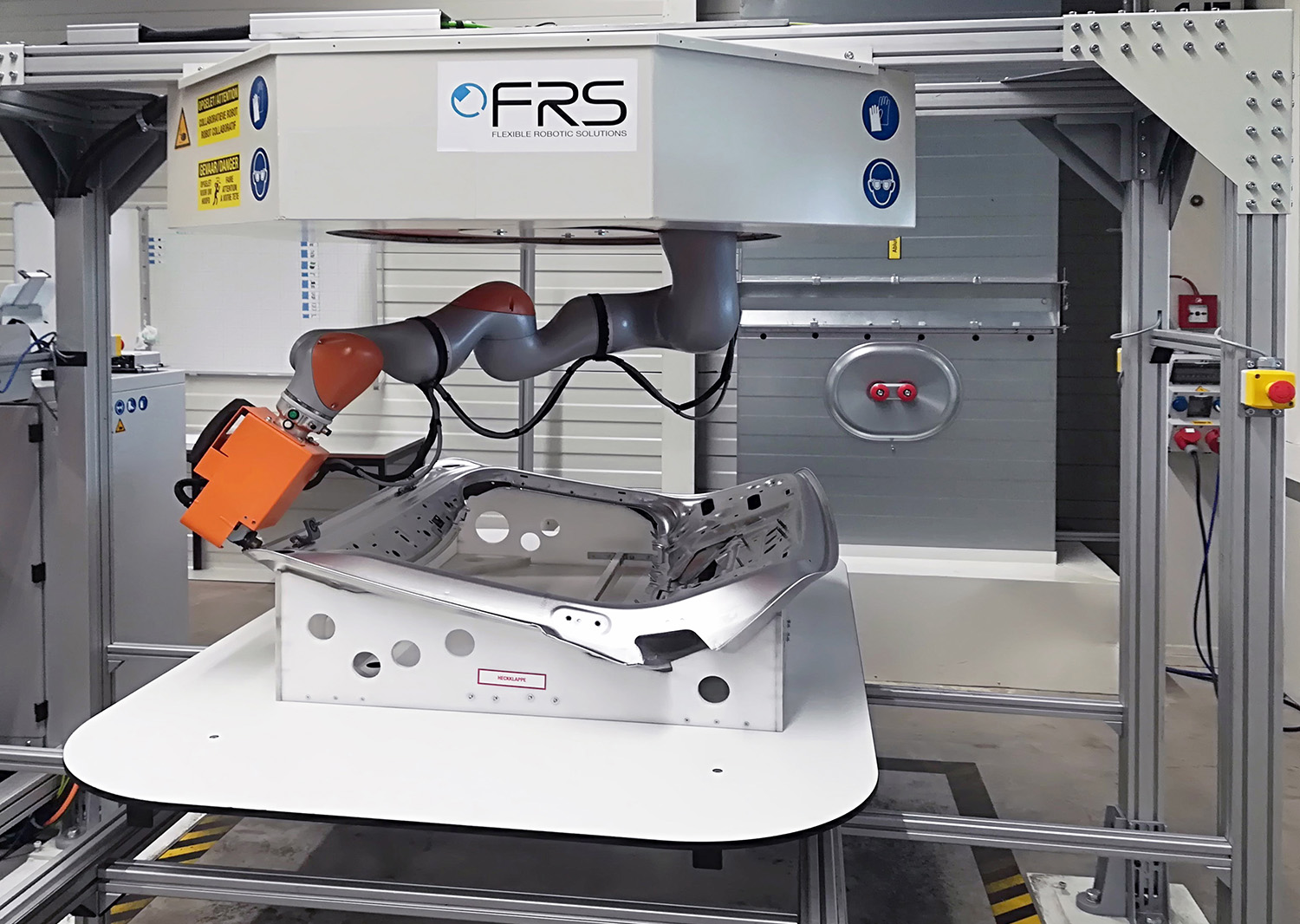 Revolutionizing Ultrasonic Inspection
The 'Ultrasonic Robotic QC' applies accurate adaptive sensor positioning to obtain valid measurements. It is a totally different solution that challenges traditional robotic quality control which requires a highly accurate computer model of each individual part. The patented feedback loop, based on both the contact force and the ultrasonic signal, enables FRS Robotics to continuously adjust sensor position and orientation in order to ensure valid measurements.
The automated approach of FRS guarantees robust ultrasonic quality control along the entire edges of various car body parts, including doors, hoods and trunk lids.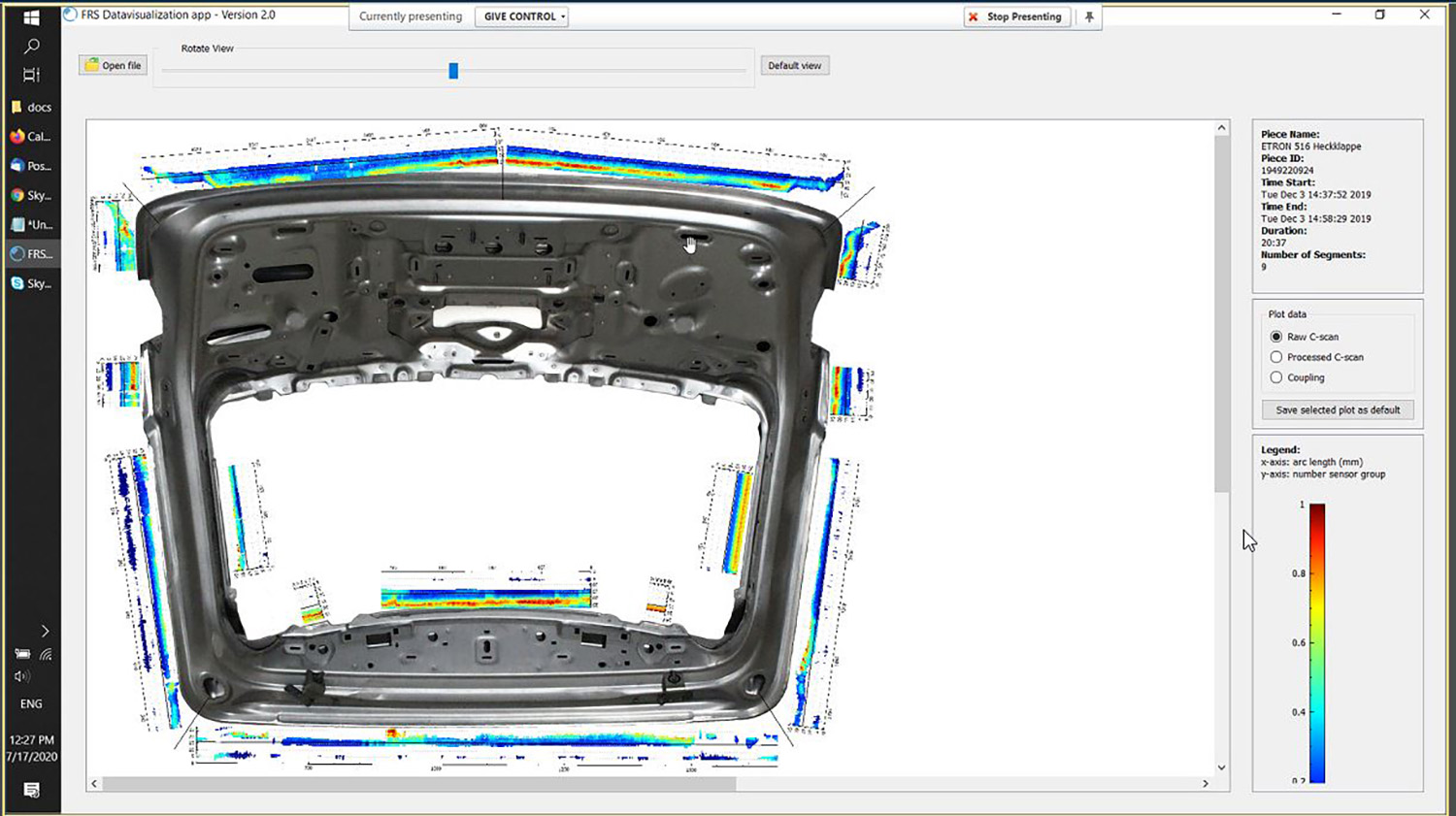 Fast, Flexible & Reliable Robotic Solution
As the FRS Robotics cell robustly handles both geometric variations in car parts and uncertainty in their positioning, no precise fixation nor clamping of body parts is required. Without the requirement for a calibrated environment, operators confirm that part positioning is straightforward.
On the URQC-200 robot cell, the operator manually guides the ultrasonic sensor mounted on the robot endeffector to the start position. Automated inspection is activated by clicking on the start button.